My love affair with the New Forest national park goes back to my childhood. Although I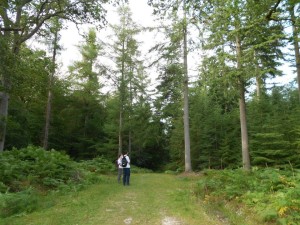 grew up in London, some of my earliest memories are of walking under the huge and ancient trees that can be found here.
It's a place that has had a profound impact on my life. As I got older I began to bring my friends here. Eventually I brought my wife, and in 2017 we decided that this was the place we wanted to settle down in.
From a more practical point of view, working in the forest also presents a massive opportunity. The guitar making industry has a history of over-use of tropical timbers, contributing to the demise of tropical rain forests in countries such as Brazil and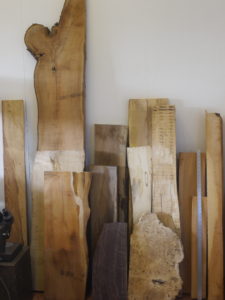 Madagascar.
With the help of organisations such as the New Forest Marque and local conservationists, tree surgeons and small sawmill operators I now have access to some of the beautiful ancient timbers cut each year as part of essential forestry work.
I am absolutely committed to being able to offer at least one New Forest grown option for every single wooden part of any instrument I can make. So far I have found good maple for necks, beautiful ancient yew for soundboards, fruitwoods and laburnum for bridges and fretboards, creamy white holly and lovely rich walnut.
The process of gathering these materials is still in it's earliest stages. Some of the timber that I am laying down won't be ready to become an instrument for a few years, some of it hasn't even been cut yet and is still carefully air drying in lovely thick planks, but I am very excited by what I have found so far.
The process of sourcing, re-sawing, and drying for use is ongoing, so for a completely up to date list of the New Forest timber it's best to drop by the workshop to have a look for yourself.
Of course, even before I moved to the New Forest I was committed to a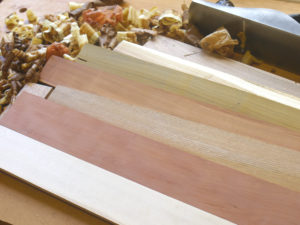 strict environmental policy based on the use of British, European, recycled and otherwise sustainably sourced timbers. This policy can be read here.
New Forest timbers
As of 2019 I now have the following timbers grown in the New Forest available in very limited quantities.
Soundboards – Cedar and some beautiful and exceedingly old Yew
Backs and sides – Fine spalted beech (some New Forest, some Mottisfont), Walnut, Laburnum and Oak for smaller instruments
Necks – Walnut, cedar, cherry and maple
Fretboards and bridges – Laburnum and walnut.