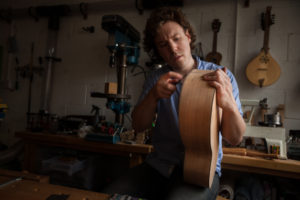 Alex Potter is an award winning luthier based near the village of Sway in the New Forest national park, Hampshire.
Specialising in unusual or early fretted musical instruments Alex studied Instrument making at London Metropolitan University, gaining a first class honours degree for his work on subjects such as instrument design and musical instrument history, before returning to complete a master's degree focusing on the re-construction of lost early musical instruments and achieving a pass with distinction. He particularly enjoyed the detective work involved in piecing together information about the instruments from what we know about the music they were built to play and the environment they were created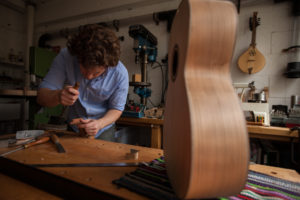 in.
Whilst at university Alex worked on the design and construction of instruments as varied as the fretted zither family, renaissance citterns (including the mighty, twenty-string ceterone), carved-top mandolas and, of course, the guitar family.
He has a passion for traditional or 'folk' instruments, playing the mandolin, tenor guitar, banjo and mountain dulcimer, and enjoys listening to and playing traditional music from the UK and worldwide.
After completing his studies Alex was given the Cockpit Arts / NADFAS award 2013 for designer-makers working in heritage crafts, a national prize awarded annually to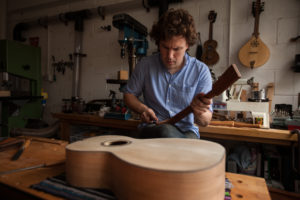 a single craftsperson who has proved exceptionally talented in their field.
The awarding panel were particularly impressed with Alex's strong environmental stance. He aims in all his work to promote the use of sustainable materials and his instruments prominently feature native and recycled timbers.
As part of his award Alex was given a workshop at Cockpit arts Deptford, a thriving creative hub of artists, artisans and craftspeople nestled in the junction between the Thames and Deptford Creek.
In 2017, After spending four years in Cockpit arts business incubator program, Alex
completed a lifelong ambition and moved his workshop to the New Forest national park.
Here he hopes to have found a long term base, and looks forward to developing his skills further in an area surrounded by talented musicians, skilled craftspeople and old, old trees.
Photographs on this page courtesy of Nick Fleming