Tenor Guitars
Tenor guitars are hugely versatile. The reduced tension of four strings allows each
soundboard to taken far thinner than that of a six-string guitar. Just how thick depends entirely on the piece of wood in question – It has taken years of practise to find that point where the soundboard is almost on the edge of being too thin. Coupled with a light x-bracing pattern this makes the my tenor guitars phenomenally responsive for such a small instrument, with really surprising volume and projection and a beautiful clear tone that's very distinct from any other guitars.
I make my tenors with an unconventional 620mm scale length, longer than most, as this allows the guitar to play comfortably in a huge range of tuning systems using the four lightest  from any regular off-the-shelf set of guitar strings.
They will sound great played in a guitar or ukulele tuning (DF#AD, DGBE etc.), a fiddle tuning (EEAE etc.), a Banjo tuning (DGBD, CGCE, DGCD etc.) or tuned in fifths like a regular scale tenor guitar (BbFCG – CGDA with capo at fret 2) and they can be strummed, flat picked, cross-picked, frailed , played fingerstyle, clawhammer or with banjo rolls with equal ease.
Prices from £1950
Tenor guitar variants
The A. S. Potter Tenor is available in five configurations;
Standard – four string designed for metal strings
Classical – with fan bracing and a tie-on D bridge to take nylon strings (see the ukulele a little further down the page for an example). This configuration may also be used with re-entrant tuning to create a 'sub-baritone' Ukulele (great for ukulele bands!)
Banjo – With a 5-string banjo neck, also available as fretless
Classical Banjo – with fan bracing,  a tie-on D bridge and a 5-string banjo neck, designed to play with nylon or nyl-gut banjo strings. Also available as fretless for 'minstrel' players.
8-string – a thicker soundboard and heavier bracing lose some of the sweet tone in favour of a double-strung configuration. This makes an excellent and highly versatile alternative to octave mandolins and bouzouki.
Ukulele
Personally I have come to enjoy the ukulele more and more the longer I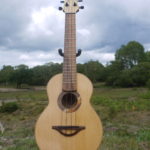 have spent making instruments. Part of this comes from the fact that their small size allows a great platform for creativity as a maker, but I also think it is easy to underestimate just how good and individual a nicely made ukulele can sound. The diminutive size also gives me access to some really interesting timbers from trees that perhaps didn't quite grow big enough to yield guitars, something which will contribute to the character of each instrument.
I don't make a ton of ukuleles, and I try to keep each one individual. I use, as with most of my instruments, my own shapes and designs. The featured instrument pictured here is a Concert size, and is made entirely from timbers that grew in the New Forest national park or the immediately surrounding area. It features  seven different local timbers and was the first instrument that I made entirely within the park with local materials.
I also have models for soprano ukuleles, tenor ukuleles (using the same body shape as my piccolo guitars) and baritones.
Because the configurations can vary to a huge degree I don't offer a standard model. All will come with a A.S Potter tie-on D bridge unless otherwise requested, a fitted hard case and high quality hardware as standard.
Featured instrument made with spalted beech back, sides and headstock, maple neck, cedar soundboard, laburnum fretboard, walnut bridge and yew trim. French polished finish.
Other Folk Instruments
I also enjoy making mountain dulcimers,  instruments from the mandolin family (up to and including guitar-bodied mandocello and bouzouki) and the occasional old-time or mountain banjo.
It is my aim to shortly be able to offer more comprehensive information about these instruments here, but for the moment if you would like to know more please get in touch and I will be happy to help out.