Nylon String
The Potter nylon string is my signature instrument, my favourite guitar, and my best seller.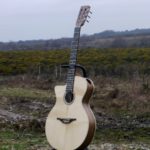 Designed from the ground up towards the end of my masters degree the intention was to create an instrument for fingerstyle folk and blues players that would combine the tone and clarity of a high quality classical guitar with the playing characteristics, projection and bass response of a large steel-strung guitar.
Unlike most guitars the cutaway was built into the design from the first draft, using an enlarged lower bout to compensate acoustically. The resulting large lower soundboard is managed by a bracing system informed by tried and tested classical guitar fan bracing patterns but incorporating elements of twenty-first century jumbo and dreadnaught X-bracing. The unique D bridge was designed to complement this system.
The resulting sound is a well-balanced and warm with strong low notes, clear, bright trebles and good projection.
The design features a narrower neck than a typical classical guitar, with a slight radius to the fretboard and the instrument is intended to take high tension strings for a much lower playing action. In practise it feels more like a very easy to play steel strung guitar than a regular classical, and responds well to most playing styles.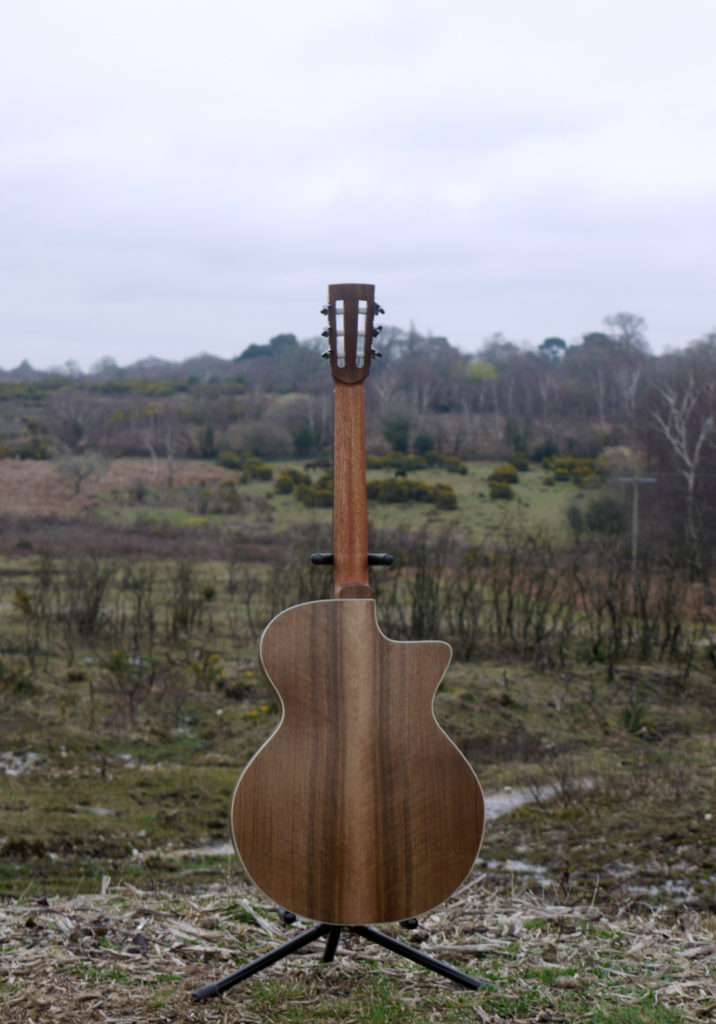 Scale length 646mm, 14th fret body join as standard
Featured instrument right; thinline, left-handed and with short scale (630mm, 13th fret body join), English walnut back and sides, figured European spruce soundboard, holly trim and mahogany neck. Other guitars in gallery below; regular, English walnut and European spruce with holly trim and regular, American walnut and red cedar with three piece walnut and hornbeam neck and bubinga trim.
The side mounted soundports on all three instruments shown are optional.
Prices from £2600

---
Steel String
I never really intended the nylon – strung concert design to make a steel string guitar.
In the years since I made the original it became a consistent request from guitarists when they tried out the nylon model above. 'Wow, this is a great guitar; would you make a steel strung version?' Eventually I gave in and went back to the drawing board some years after drafting the nylon. I have tried to keep most of the features of the concert that guitarists responded so well to; the shape is largely unchanged, I kept the basic neck dimensions and decided to keep the pinless bridge design. I went through a few bracing layout/bridge design combinations before I got something that was doing what I wanted it to, and I am still tweaking the design here and there, but generally I am very happy with the new configuration.
Early feedback from players has been very positive. There may be something in this unexpected instrument!
Featured instrument made in Californian walnut with custom inlay work.
Prices as nylon string version
---
Session
The Potter Session was designed to get the maximum possible volume and projection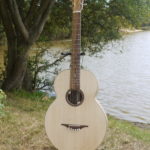 from the smallest possible full sized guitar. The idea was to build an instrument that it would be easy to carry out and about to a session or jam  that people would definitely hear you playing.
If you like the current trend for 12th fret guitars, but also like the volume and projection of a big 14-fret, this is the guitar for you.
I currently make one or two of these a year and I'm still refining the design from one to the next, but when I've put the prototype in the hands of professional musicians the feedback has been overwhelmingly positive.
A compact 628mm scale and a 12th fret join steel strung guitar, with a comfortably proportioned chord playing neck and a powerful and distinctive tone complete a very player-friendly package.
Featured Instrument made with walnut back and sides, maple neck and Laburnum fretboard all grown in the New Forest national park. Second instrument made with Queensland silky oak back and sides.
Prices from £2250
---
Piccolo
Based on instruments made by several American manufacturers in the early 20th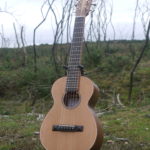 century the piccolo is a very genuine guitar, albeit a small one! It is designed to take normal light gauge guitar strings and is tuned to a pitch four or five steps above a full size guitar.
Although it is a similar size as a larger tenor ukulele the piccolo is built for steel strings,  with modern X bracing and an adjustable truss rod it generates a good amount of volume and a surprisingly rich, full tone. A 40mm nut makes for a perfectly playable neck even in so small an instrument. It's the first guitar that visitors to the workshop tend to pick up, and the reaction of 'it sounds just like a normal guitar' never ceases to raise a chuckle.
Great fun to pick up and play, excellent for travelling – a guitar that will put a smile on your face!
I don't make many of these, they tend to be custom orders, so there isn't really a standard configuration. Here is a walnut and red cedar example, along with an all recycled mahogany and rosewood guitar made as a 'little brother' for an all-mahogany martin owned by one of my favourite customers. Both examples have an optional traditional pyramid bridge.
Available with fitted hard case.
Prices from £1500
---
Other Guitars
I can also make guitars to a wide range of traditional and historic designs, with the European romantic period and the American guitars of the late 19th century being particular favourites, if you want anything specific or unusual feel free to get in touch!