Attention: Summer 2020 Covid-19 amendment to classes
Due to the difficulties of safely teaching what is a very hands on topic in the confined space of the workshop I am not currently accepting new students. I am not sure at what point I will be able to re-open for new students, at this point we may be looking at new year 2021.
When I am able to re-open the classes it will be necessary to reduce the class sizes to one or two students at a time, this is to ensure that each student has their own workbench, adequate space and that it will not be necessary to share tools. As a result the price per student will increase.
If you would still like to be considered for a place, or to be notified when a new set of places are available, get in touch. I will be happy to talk you through the class, discuss the safety measures that will be put in place and answer any questions that you might have.
Stay safe everyone,
Alex
Instrument Making Evening Classes
Learn to make your own guitar, ukulele, mandolin or dulcimer in my New Forest
workshop.
I will guide you through all the stages of construction, designing your instrument and selecting materials (including access to my own stock of beautiful timbers grown in the national park) all the way through to a finished, unique work of art that will sound amazing.
No previous woodworking experience is necessary, you can work at your own pace, I am very happy to teach the basics of sharpening and using traditional hand tools and can recommend projects that would be suitable for any level of experience. All tools and equipment are provided, as are tea, coffee and biscuits.
The workshop is large enough to hold several students, but in order to maintain the
best quality of tuition at the best price places I try to keep classes between 2 and 4 students at any time.
Because of this places are strictly limited. It's quite common for students completing their first instrument to stay on and make a second (or third…). It's a good indication that the classes are enjoyable, but it does mean that there can be a wait for new places to open up.
Lessons last a minimum of two and a half hours (though quite often overrun to three!) once a week. One to one tuition or private two person classes available on request
Students will need to purchase materials. You are welcome to supply your own, or you can choose from my stock. I keep a reasonable selection at very competitive prices. If you would like to source your own materials I will be happy to recommend any of the suppliers that I personally use.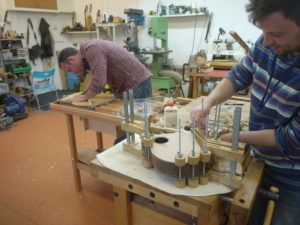 Please note that it can be very difficult to predict how many lessons a student might require to complete any given instrument. We use almost exclusively hand tools and make every part from scratch; it is a lengthy process, but a rewarding one. I am happy to provide taster lessons if you would like to see if instrument making would suit you.
If you would like further information, to enquire about current availability or to visit the workshop to discuss classes in person then feel free to get in touch.