Developing an A.S. Potter guitar from concept and theory to drawing board, prototypes and testing can take months. For this reason our list of currently available guitar models is rather limited. In fact we currently only offer one, the excellent nylon string Concert.
Several more models are currently in development, with the steel string Session guitar in it's prototype stage, so keep an eye on this space and our blog for updates.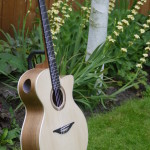 Alex can also make guitars to a wide range of traditional and historic designs, with his personal favourite periods being the European romantic period and the American guitars of the late 19th century.  If you have any questions about the availability of any guitars or for any further information please contact us.