Although not usually a ukulele maker Alex has produced a number of one-off instruments for special commissions in the past.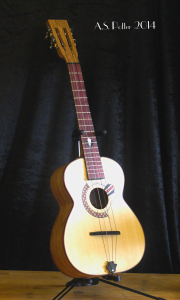 When Alex does make a ukulele he takes to opportunity to create something that will stand out from the crowd, using unusual design and material combinations to bring to life something truly unique. However, by using the same blend of traditional techniques and modern innovation as any A.S. Potter instrument each ukulele produced is a beautifully functional instrument with a strong, clear sound.
Ukulele commissions are priced individually and there is no standard configuration.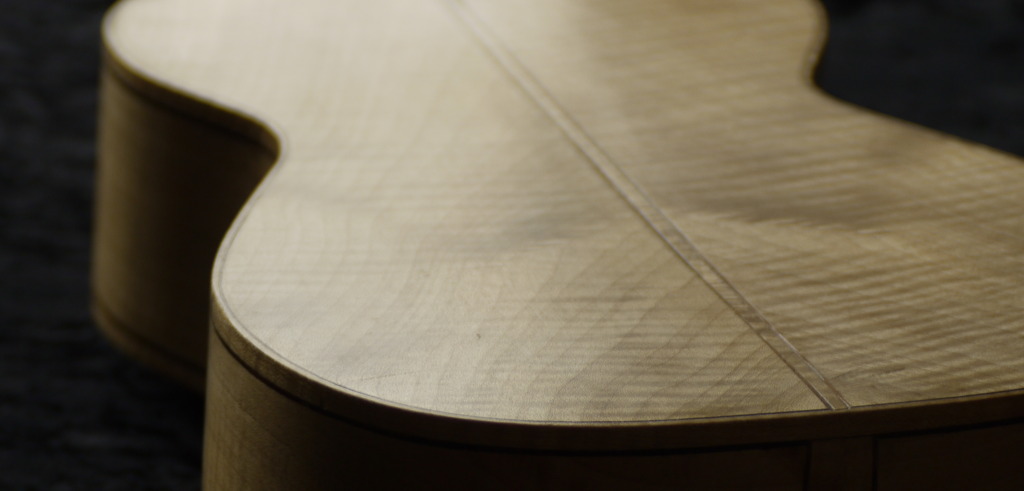 Instruments shown

Regular scale concert in single-tree English field maple (front, back, sides, neck and binding) and single-tree east Indian rosewood (fretboard, bridge and trim), pin bridge and gold mother-of-pearl inlays. [Left and Lower]

Long scale tenor in English London plane back and sides, European Spruce top, European cherry neck, Purpleheart fretboard, binding and trim, ebony tailpiece, bridge and hand-turned end pin. With slotted headstock, cantilevered fretboard and mother-of-pearl, ebony, purpleheart and London plane inlays. [Right]

Prices for Ukuleles start at £300