Quality as Standard
Each instrument I make comes with a hand-made bone nut and saddle, bone or ebony bridge pins (where applicable), high quality German nickel-silver fretwire, solid mother-of-pearl fretboard marker dots and tried and tested tuning machines by well known manufacturers.
My standard finish is a high-build, mid-sheen polymerised oil which provides good protection, wonderful depth of colour, is easy to maintain and allows the wood to move freely so as not to impede the tone.
Extras and upgrades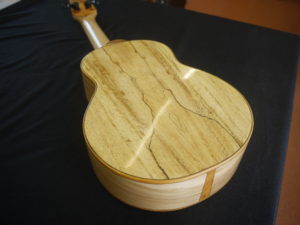 I can also offer a full range of design extras and upgrades for your instrument, including practical options like armrest bevels and soundports, hypo-allergenic fretwire and pre-installed pickups  as well as decorative options such as custom inlays, hand-made strap buttons and headstock binding.
Any instrument can be upgraded from oil varnish to French polish at a supplement of 20% to the base price of the model.
A list of guide prices for extras may be downloaded here.
Wood
Timber used for making Musical instruments is commonly referred to as 'tonewood' and can seem a rather complicated subject at first glance. Rather than offering the bewildering selection of 'A', 'AA', 'AAA', 'Master' etc. grade timbers you may have seen elsewhere I offer two options; Standard and Select.
My (by no means exhaustive) wood options list can be downloaded here. I am always happy to talk through the options with you and discuss what effect different combinations of timbers might have on your instrument. For smaller instruments such as ukulele or piccolo guitars the prices for materials are likely to be less than those listed.
My tonewood grading explained.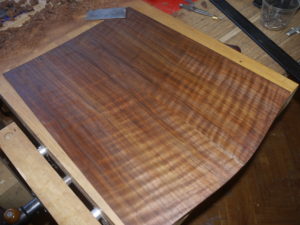 All the materials I use are high quality carefully sorted tonewoods that will make beautiful looking and sounding instruments. By choosing the Standard options for your instrument I will use my best judgement to thoughtfully put together selection of complimentary timbers, either from the materials I have in stock or else ordered from one of my trusted suppliers.
When I sort through new shipments I will reserve any exceptional timber. If you opt for the Select timbers then you will be offered a choice of these beautiful, one-off pieces; you will be able to pick out the exact piece that will be used for your instrument. In the event that I don't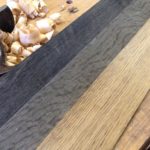 have a suitable piece in stock I will personally travel to sawmills or merchants to select the best timber for you. The increased cost of Select timber reflects both the higher value of this wood and the extra time and effort that I take to ensure that everything is perfect for you.
Soundboard Grading
My standard soundboard material is FSC certified European spruce, predominantly sourced from the German Alps.  All the spruce is carefully sorted for stiffness and tap tone to ensure that all the sets I stock will produce a great sound. What I don't do is sort for is slight colour variations, stripes or interesting grain. Traditionally a lot of these sets would be discarded as 'seconds', which is incredibly wasteful for wood that will make extremely high quality instruments.
Personally, I think that a little colour or stripe makes for a beautiful and individual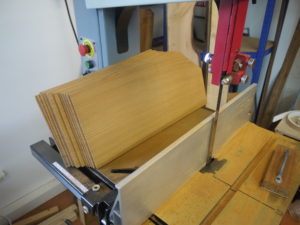 instrument, and judging by the fact that the vast majority of customers who have chosen their own soundboards have picked 'interesting' over plain I don't seem to be the only one!
Of course if you want a beautiful clear soundboard with 'perfect' grain and uniform colour then I can quite easily accommodate this as a select option.
Photograph of Alex polishing baritone ukulele © Russel Sach photography