The A.S. Potter mandolin design combines elements of carved and flat top mandolin design, utilising thick, hand-graduated front and back plates with carefully weighted x-bracing pressed into a high-curve dome.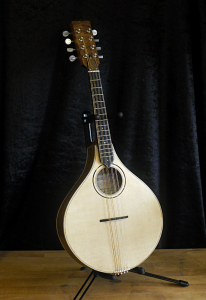 The specially designed cantilevered neck, when coupled with a floating bridge that incorporates violin family design produces an instrument with impressive projection and clarity and no small quantity of volume. If you are playing an A.S. Potter mandolin you will be heard!
The bridge is available in ebony or hard English sycamore. The ebony bridge boosts volume and sustain, producing a very clean, clear sound that is excellent for soloists. The sycamore produces a very well – rounded warmer sound with rich low tones that makes for an excellent rhythm mandolin.
 Standard configuration:

Soundboard     European alpine spruce
Back and Sides         English walnut
Neck		     African mahogany
Binding                 English holly
Fretboard	       Cameroon ebony
Bridge                 Cameroon ebony
		  or English sycamore

Solid cast tailpiece and Rubner tuning machines

Prices from £650