August 2014 – Just a quick preview from the workbench – a new guitar model from A.S. Potter!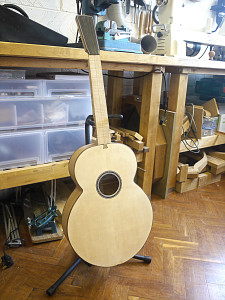 Tentatively called the 'Session' this is a modestly sized guitar with a huge sound – great for taking to open mic nights or sessions where you want to be heard over the crowd. Utilising a huge (for it's size) vibrating area on the soundboards lower bout, a shorter 628mm scale with a 12th fret join and a very comfortably proportioned chord-playing neck the Session is designed to provide volume, clarity and tone in a very player-friendly package.
The prototype is also being made to showcase some beautiful alternative and sustainable materials, with a gorgeous English sycamore neck that shows subtle flecks of colour, beautiful grain and a pronounced flame figure (I have five more necks from this tree in storage now, first come first served!) and the back and sides made from very impressive sustainably harvested Australian Silky Oak (Grevillea robusta).